It took us a few years to make a clear decision to buy a motorhome. In hindsight, I can say that it was our best choice. We don't just use the 2-person motorhome for summer holidays to the seaside, we use it to go somewhere almost every weekend. Whether skiing in the winter, trips, or just to the Christmas market in Budapest.
Why did we choose this model? Before we bought the motorhome we had been to two motorhome shows. For the first time we were getting acquainted with what a motorhome actually is and what to expect from it. Right from the start it was clear that we wanted the most compact motorhome possible for easy travel and parking. We had been in just about every motorhome under 6m that was on the market at the time. With my height of 194cm I had to try out the bed and bathroom in all of them. We were always at the shows for a few days so we could try all the models in peace.
When comparing the quality of workmanship, the clear decision fell on the German motorhome. In addition to the length of up to 6m, the width was also very important. Have you tried parking a classic wide motorhome between 2 cars in the city?
Why this 2-person motorhome?
Powerful 148hp engine
Compact dimensions
Winter package with insulated tanks
Huge garage for sports stuff
Large and comfortable bed
Separate shower for drying stuff
Cleverly designed kitchen
Details of our old motorhome for 2 people
A compact semi-integrated motorhome from Knaus, model Van Ti 550MD. In operation since 6/2015. Made in Germany. The length of the motorhome for 2 persons was 599cm, width only 220cm, height 272cm. Compared to larger and wider motorhomes, it is easy to park and maneuver in cities. The length of up to 6m will ensure lower charges for ferries, for example. There was a large bed for 2 people in the back, in the front it was possible to fold down the table to create another bed. Seats with seat belt were 4.
Our first 2-person motorhome was up to 3.5t, M1 category, so it could be driven with an ordinary Group B licence. Due to its small size it also has a high endorsement unlike the huge motorhomes. Knaus 2-passenger motorhomes are based on the AL-KO chassis, which ensures a lower overall height, lighter weight and better stability on the road, on the motorway but also in corners.
The motorhome had an optional 109kW (148hp) engine, there was no problem when overtaking or running up a hill. Manual 6 speed transmission. Manual air conditioning, electric windows, heated mirrors. Original LED daytime running lights. Very comfortable travelling without unnecessary stress. Our 2 person motorhome had the winter package, i.e. water tanks were heated. We camped in -25 with no problems and that was without electricity hook up.
Full service history in the service booklet. Only serviced at an authorised Fiat and Knaus garage. Last service was in August 2018 at 64k miles – new brake pads, new brake discs, new handbrake pads, new starter battery and pre holiday check. The tyres on the rear suspension were also replaced, which is a common fault with these vans. There was proof of everything of course.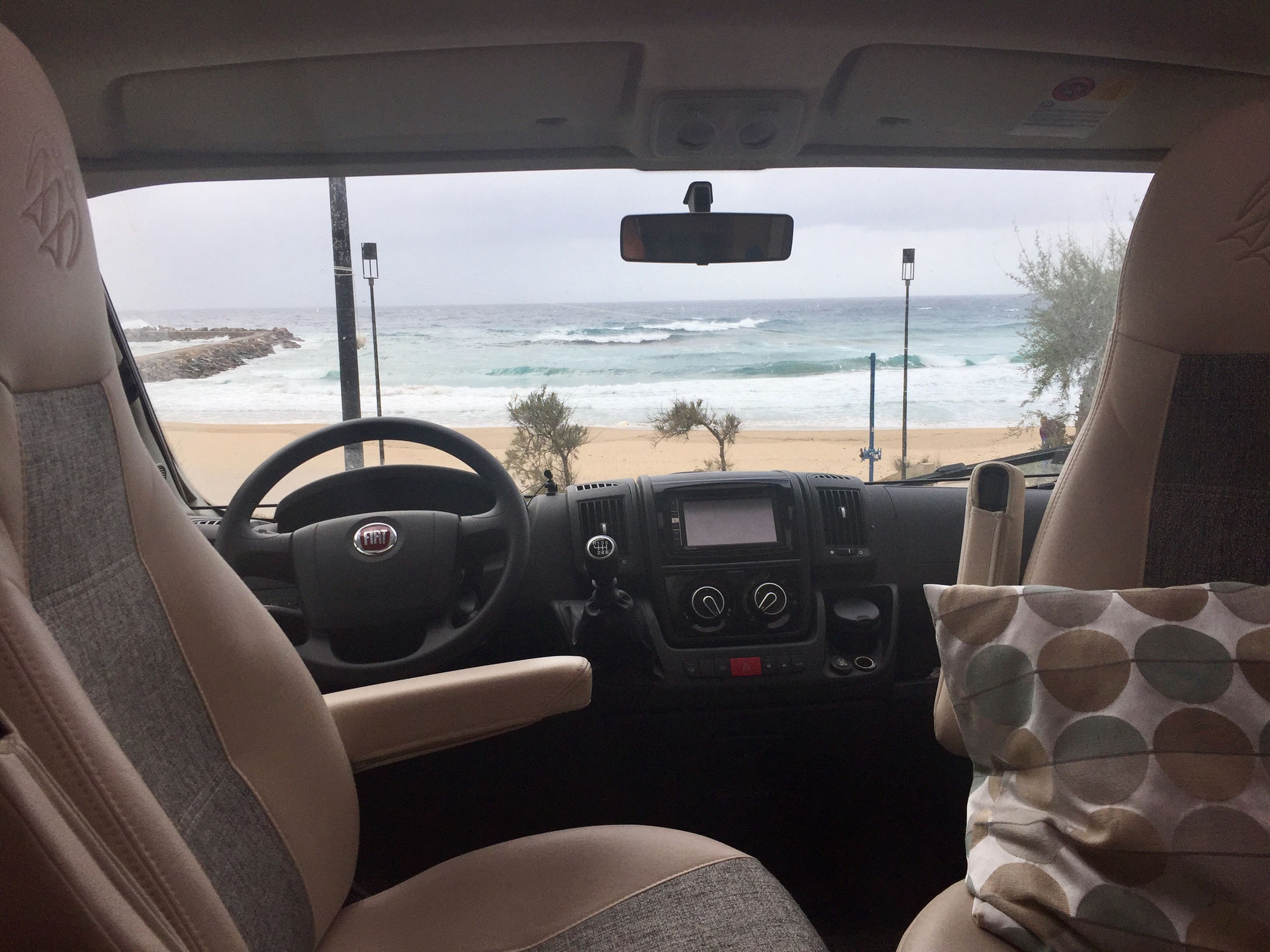 We have used the 2 person motorhome for 3 years for surfing, skiing, cycling. It was equipped with everything needed for camping outside, no electricity or gas hookups. Remote beaches or small ski resorts are not a problem. Due to its small size it was a no brainer to sleep on the street in town. Easy to park even longitudinally on the street or between cars in Southern towns. The 2 person RV we had was comfortable for 2 people even when the weather was inclement for several days in a row. The motorhome was quite aerodynamic in its shape. Unlike integrators or motorhomes with an alcove, it was comfortable and easy to travel with at highway speeds. It felt like a larger passenger SUV car. It was suitable for 2 people +- 1 small child.
Standard equipment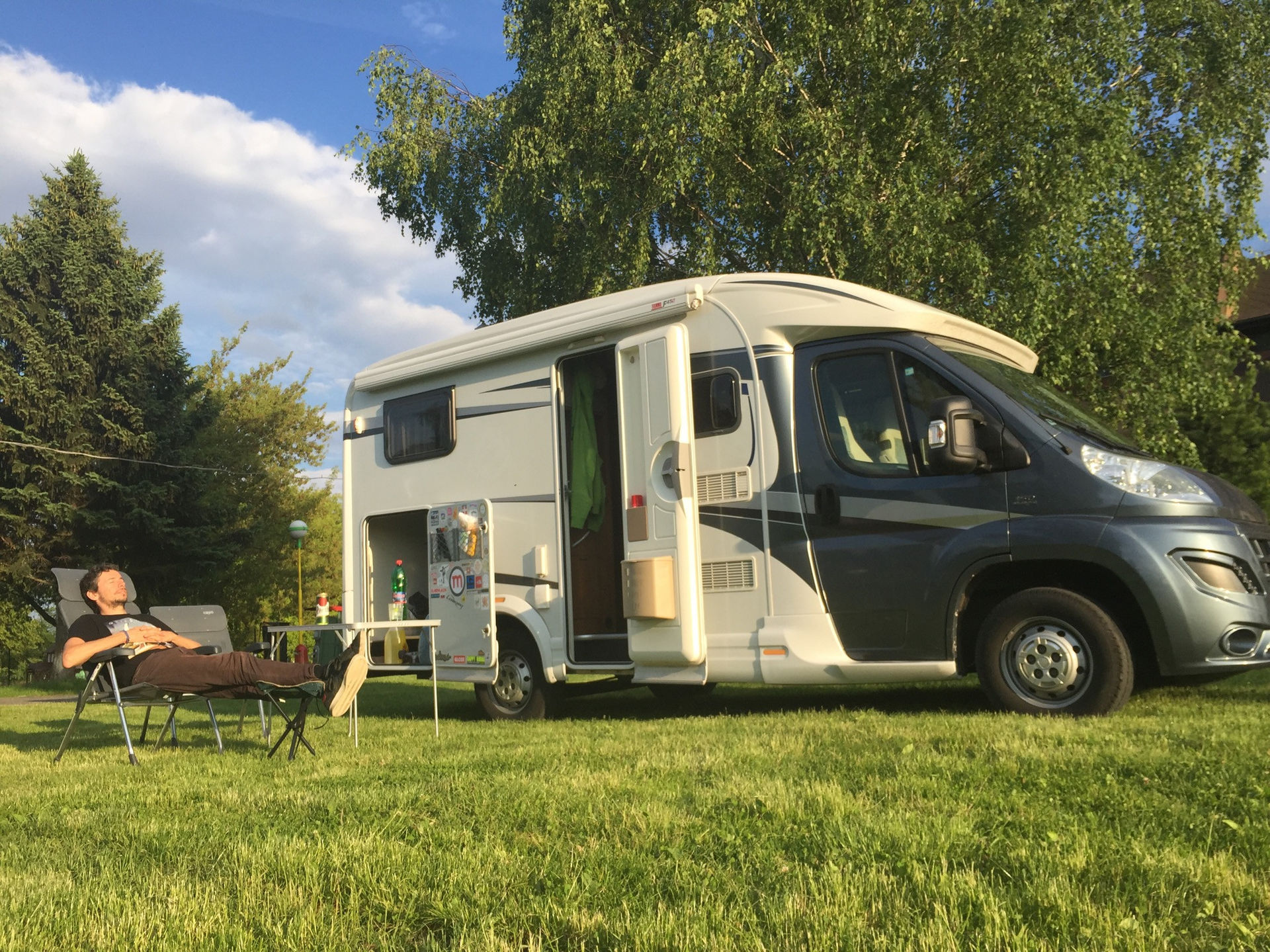 Double bed – fixed bed in the back of the motorhome.
Smaller front bed created by lowering the table and turning the front seat.
Swivel, height-adjustable driver and passenger seats with armrests
Seating for 4 people in the living area with a table that can be made even larger by turning the lower part.
Kitchenette with 3-burner stove – the kitchenette was close to the turntable, which increases the space for cooking, chopping, etc.
Deep sink in the galley with both hot and cold water
108L fridge/freezer with 12V/230V/Gas
Recharge the motorhome battery on the move from the alternator or by connecting to 230V
Separate shower with hot/cold water
Thetford chemical toilet
Drinking water tank 100L
Waste water tank 100L
Service-box – there was access to fill, drain and electricity connections all in one place.
Wash basin in bathroom with hot/cold water
Toiletries cupboard
Wardrobe with lighting, shoe cupboard and plenty of storage for clothes, food and kitchen utensils
Space for a bin in the side door – accessible from outside in summer, for example.
Lots of different hangers in the kitchen, bathroom and living area.
Huge garage with special place to store skis, chairs and shelves. Bicycles also fit seamlessly into the garage. Access to the garage was convenient from both sides of the 2 car motorhome through the large door. There were mesh screens on the doors for small items. The garage was full of storage, shelves, hangers, camping furniture holders, etc.
Truma Combi 4 independent gas heater with 12L hot water boiler
Heating exhausts: 1x bathroom, 4x in living area, 2x to front, 2x by bed, 1x garage
4 opening roof windows
Mosquito nets on all windows and side door to living area
Blackout on all windows including the front
Curtains on the windows, curtain by the bed and in the living area
Tinted double-glazed windows in the living area for better insulation
There were 2 keys each for the motorhome, living area and security locks
Superior additional equipment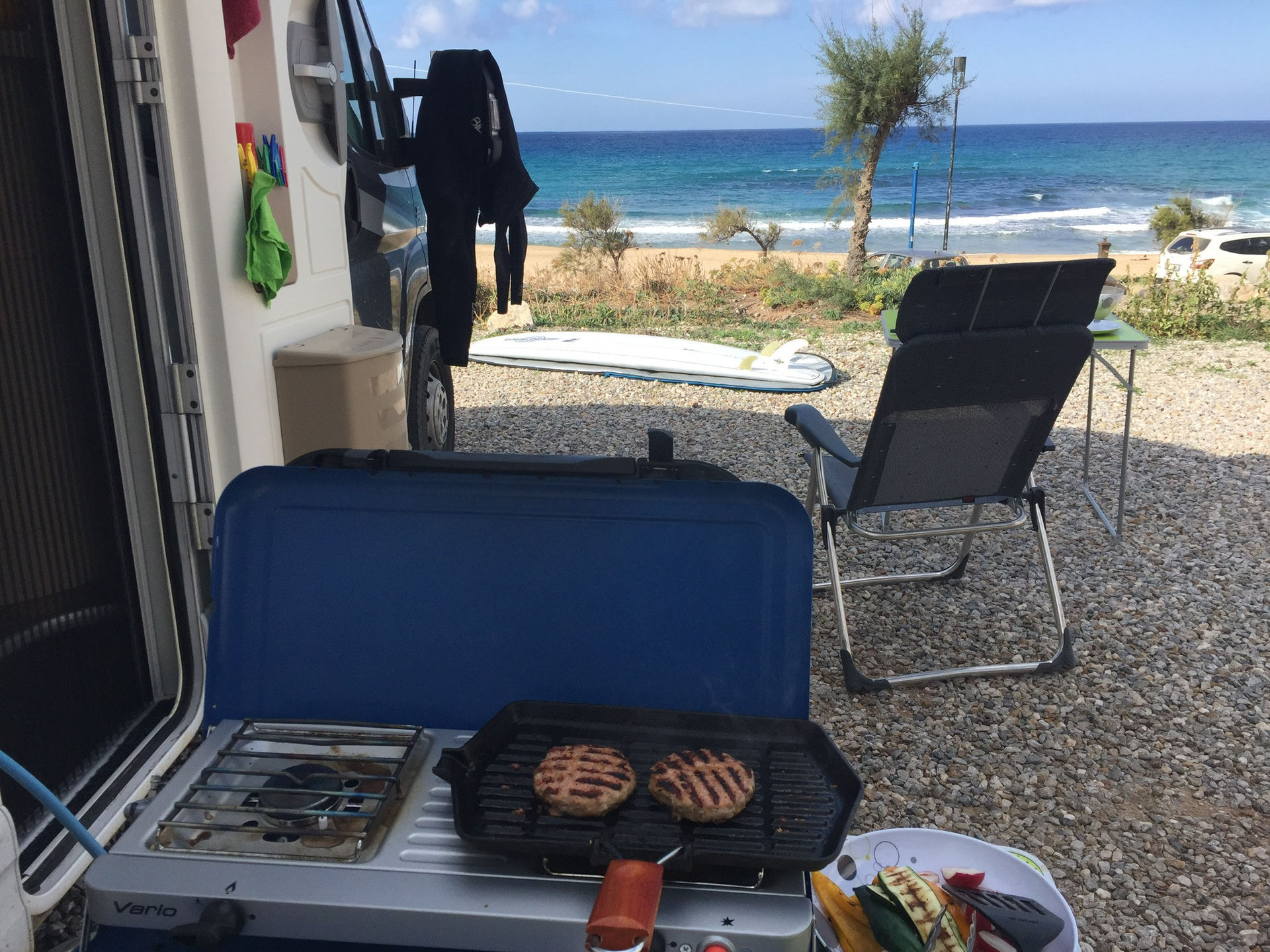 All of the following things are not standard in a 2 person motorhome and we had them fitted. The price just for all these extras + labour is about 8000 EUR and that's not even counting the time spent in fitting it.
2 Alugas gas filling tanks – the possibility to fill up with LPG gas at petrol stations all over Europe. Adapters for refuelling in all countries. Hassle-free camping for long periods or winter skiing. Bombs were placed inside and were heated. There was therefore no need to refuel with pure propane. Both bombs have indicators of the actual gas level.
Solar panel 170W – recharges in winter as well. We go skiing regularly without electricity hook up.
Batteries in living area on heated spot 2x 80Ah, so 160Ah total available for lighting, charging cell phones, cranking up heating, etc
WiFi antenna on the roof for internet reception for example at campsites, in town or at the pump.
The sunroof above the bed was with a fan. It was possible to either blow air inside or outside. There was therefore no need for air conditioning – we have tested this. The fan could also run all day from a leisure batteries and ventilate the motorhome.
Marquis Fiamma F45S
Fiamma rack for 2 bikes, possibility to extend to a third bike
Roof rack (skids) by Thule. Possibility to attach surfboards or even a roof box. Quite a rare accessory for a 2-passenger motorhome.
External hot/cold water shower
External gas outlet for grill or stove on the side of the motorhome under the awning
External gas outlet – some campgrounds allow you to hook up to gas or rent their propane tank.
Full size spare, jack, tire inflator with repair kit
Curtain in the middle section of the 2 person motorhome – separates the living area from the bathroom with bed. It was great for changing clothes or getting in/out of the shower.
Truma CP Plus digital control panel with the ability to control the heating via mobile and remotely. It was easy to set the desired water temperature in the boiler, temperature inside the motorhome, heat blow rate, timer, etc on the display. Everything works via mobile too, so you can set the heating from home in the morning and when you get to the motorhome it was warm there. You can also set the water heating remotely, when you come into the motorhome you can shower straight away.
Truma iNet – provides mobile and remote control of the heating.
Truma Ice-Ex – heats the gas supply for use in winter.
Truma Duo Control – this allows you to use the gas heater and gas fridge while driving. Automatically switches to the other when one tank is used up – no more being cold at 2am 🙂
2x Truma Gas Filter – a must have to protect your gas appliances, heater and fridge.
Powerful voltage converter to 230V, electrical socket has been brought out to the garage as well – possibility to charge e-bikes, e-scooters, boostedboards etc. It can easily power a hairdryer or blender.
12V sockets for example for charging a mobile phone in the front living area, also on the shelf by the bed.
Sockets for 230V in the kitchen, living area and on the shelf by the bed.
Complete LED interior lighting with low energy consumption
Cabling and pre-wired for TV and satellite. (We did not have TV or satellite installed)
Reversing sensors in the bumper – with visualisation of where the obstacle is when reversing and at what distance
Reversing sensors in the upper part for branch detection
Pioneer radio with navigation system, CD, DVD, 2xUSB, microSD, MP3, Bluetooth, Airplay, phone option (hands-free microphone)
The navigation software has been specifically designed for 2-passenger motorhomes. Possibility to enter the exact dimensions of the motorhome for safe travel.
Reversing camera with display in the built-in radio. The camera could also be used as a rear view mirror while driving.
Michelin Agilis Alpin winter tyres on original Fiat wheels
Michelin Agilis Camping summer/all-season tires on genuine Fiat rims – I used these tires when we traveled in the fall when we went south and returned home in November or December.
Continental Vangocamper summer tyres without rims
SOG vented toilet – no chemistry was needed for the toilet cassette
Spare chemical toilet cassette – great thing for wild camping, if you fill one cassette you still have the other in reserve. This will extend the time it takes to find a service point to empty it.
Safety and comfort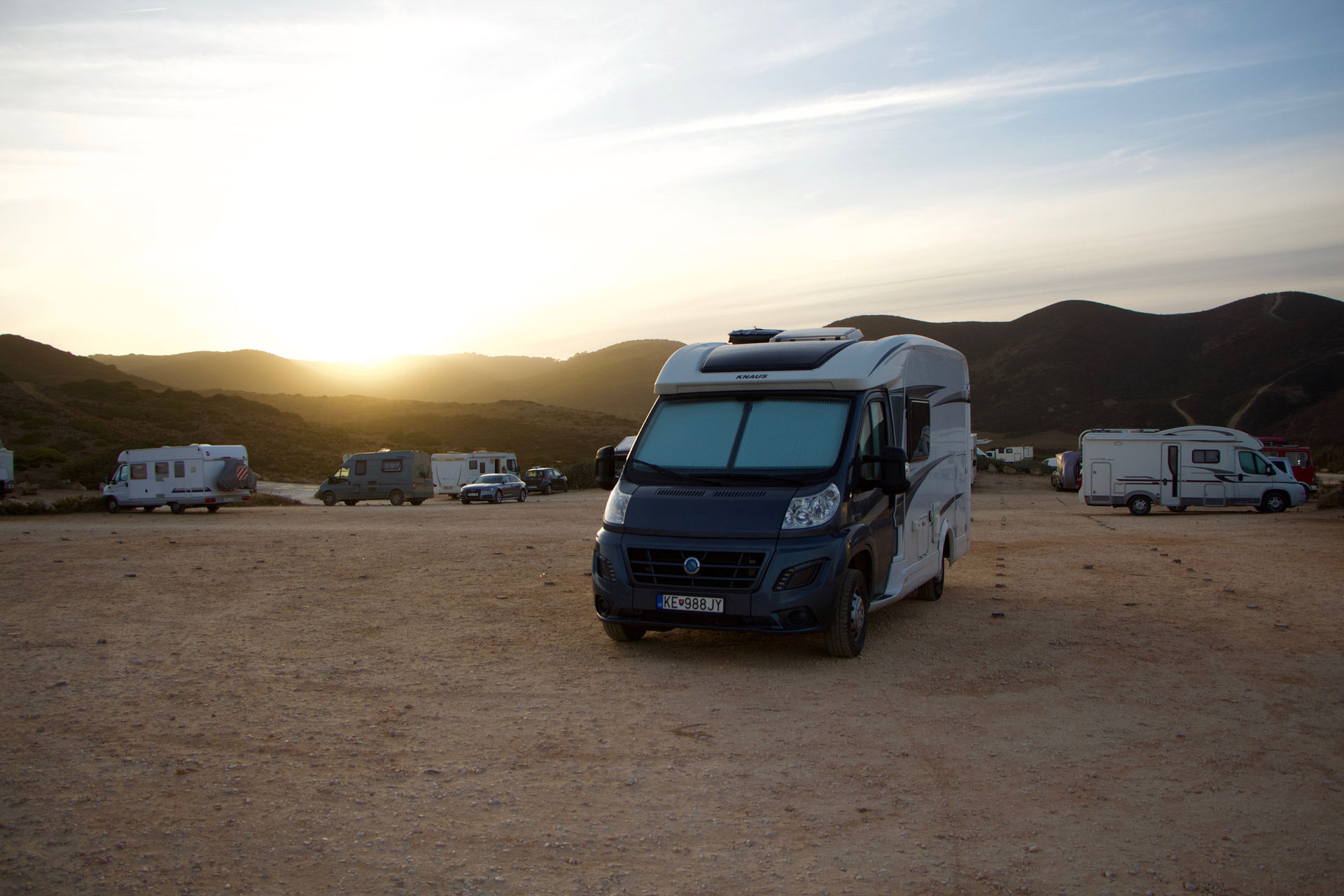 HEOSolution locks on the inside of the front doors (driver and passenger) with key
Additional HEOSolution lock for side doors with keyed external locking
Additional HEOSolution locks for both garage doors with key
All HEOSolution locks were on the same key
Immobiliser
On-board computer
Cruise control
Servo
ABS
ESP
Driver and passenger airbag
Hillholder – automatic handbrake for hill starts
Manual driver/passenger air conditioning while travelling
Electric mirrors, heated
Electric windows
Central locking with remote control
Height adjustable driver and passenger seats
Adjustable steering wheel
Winter camping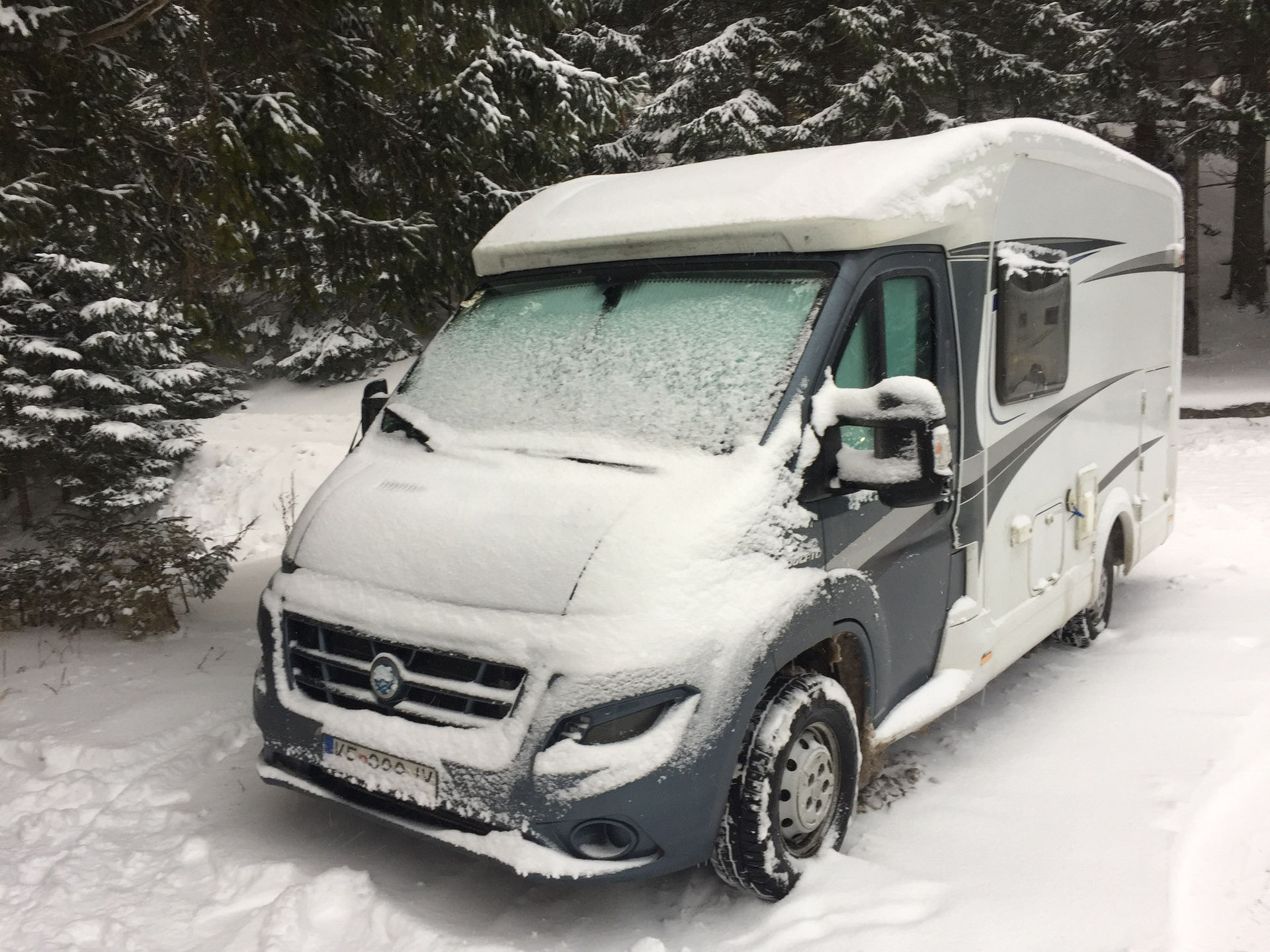 Our 2-person motorhome was fully usable for winter operation, skiing.
Both the waste tank and the fresh water tank were insulated and heated.
The boiler has a safety fuse. In case of a malfunction or running out of gas, it will drain the water by itself.
The Alugas gas tanks will allow you to heat without problems even in severe winter. Gas consumption was about 2 days per cylinder in a very hard winter. It was not necessary to use pure propane. So feel free to sit in a t-shirt in the winter, no need to skimp on gas 🙂
Strong and good quality solar panel to recharge the battery.
Was able to hang clothes in the bathroom shower and everything was dry by morning
The garage was also heated and has space made for storing skis, hanging helmets and such.
Grille covers to vent the fridge for winter operation.
External gas hookup will ensure a comfortable barbecue 🙂