Sardinia is a beautiful island that belongs to Italy and there are two ways to reach it. By ferry or by air. (We won't discuss the sailing on an inflatable here.)
how it works and how to make the ferry trip to Sardinia. From planning, to buying your ticket, to disembarking the boat. How much does it cost and what does the price depend on and what you can save. What are the transport companies – ferry operators. And from which cities in Europe it is possible to take a ferry to Sardinia. I will give a concrete example, the conditions of transport and our experience.
Our experiences with ferries
Over the years we have sailed to Sardinia six times with a car, caravan and camper van, once to Elba with a car and several times as walking tourists to the island of Procida and one other small island in Sicily, Favignana. In addition, we took the ferry from France to the UK and from the UK to Ireland several times by car and hitchhiker. So our experiences are quite rich especially the various experiences on the boat. It was on the way to Ireland that we happened to get it wrong with the ferry on the last day of our holiday. We arrived at the port in the evening and found that no boat was coming. We were supposed to be at work the next day :D.
Another time we were coming from Dublin and there was such a storm at sea that it turned out to be a very wise decision to choose the right place to sit. It was a smaller boat and it was rocking us so that the boat tilted properly. At a time like that it's a good idea to sit in the middle of the boat where the movement is least. On the way to Sardinia we experienced a few times a storm at sea, but it wasn't that dramatic, it was felt very minimally and I'm a person who doesn't like roller coasters.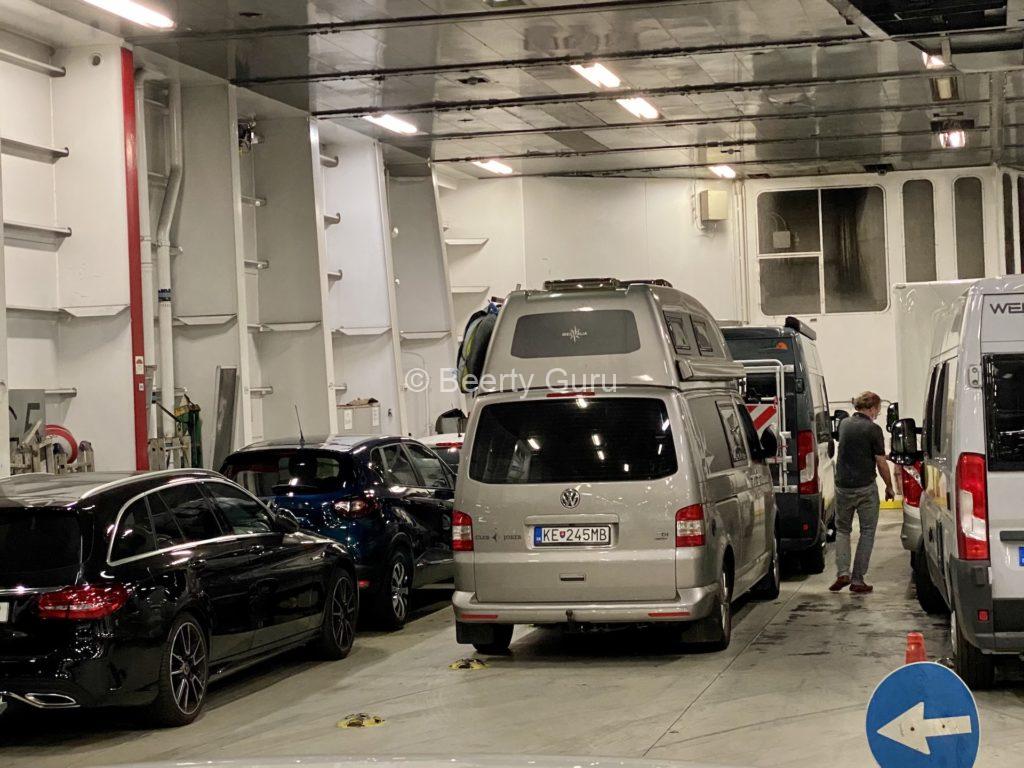 See prices for ferries to Sardinia
Use the simple form below to check current ferry prices from Italy to Sardinia at any time.
You can read all the important information about how to get to the ferry or what to take on the ferry in the following article.
Post content:
General about the ferry (not only to Sardinia)
Who each and what all can go by ferry
Types of cars and people
A ferry is a large ship, a special vessel used to transport people, cars and goods. It can take cars, motorbikes, vans, caravans and motorhomes, buses or trucks. You can easily go with a car and a bicycle carrier, either on the roof or on the towing vehicle. In addition, it is possible to use the ferry trip as a walking tourist. People also commonly travel as walking tourists, families with small children in a carriage or people in wheelchairs.
Pregnant women
As there is a doctor on the ship who only provides emergency assistance, it is common to travel up to the 6th month of pregnancy. However, women in their 6th month and above are required to have a doctor's note stating that they can travel. Similarly, women with a high-risk pregnancy must have a doctor's note regardless of the month.
Animals
In addition to people, you can also bring a pet. As long as it's a common animal like a cat or a dog, or another small animal like a ferret. Over the years, we've never seen anyone with their parrot on their shoulder among the passengers on the ship. There are some restrictions for dog tourists heading to France. So if you'd like to combine a trip to Sardinia with a visit to Corsica, make sure you meet their criteria.
GPL power
GPL-powered cars have to make this known when booking their ticket. They must have the tank only half full when boarding. Check if the selected company has another condition for GPL cars.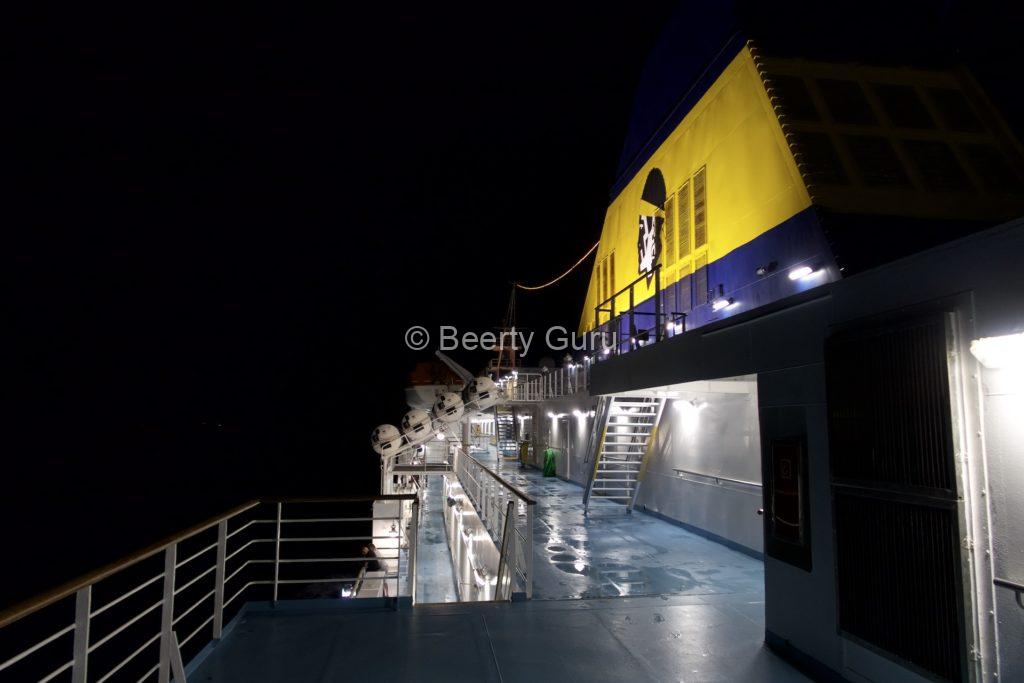 How ferry transport is organised
Depending on the embarkation point and the final destination, the way in which the entire ferry crossing is organised differs. How often the ferry runs, how big the boat is and how long the journey takes. How far in advance you need to be at the port before embarkation. It sounds a bit complicated, but with this guide you'll be clear.
The ferry journey to Sardinia at a glance
Find the right parking lot from which to board. You'll be guided by your boarding pass, so keep it handy on your phone or tablet. Below we'll list the exact points where each company departs from, as there are quite a few. Once you're in line and waiting to board, pack the things you want to take on board. Wait until you're on board, grab your stuff and go up on deck. Wait a few hours. And all that's left to do is disembark and leave the port.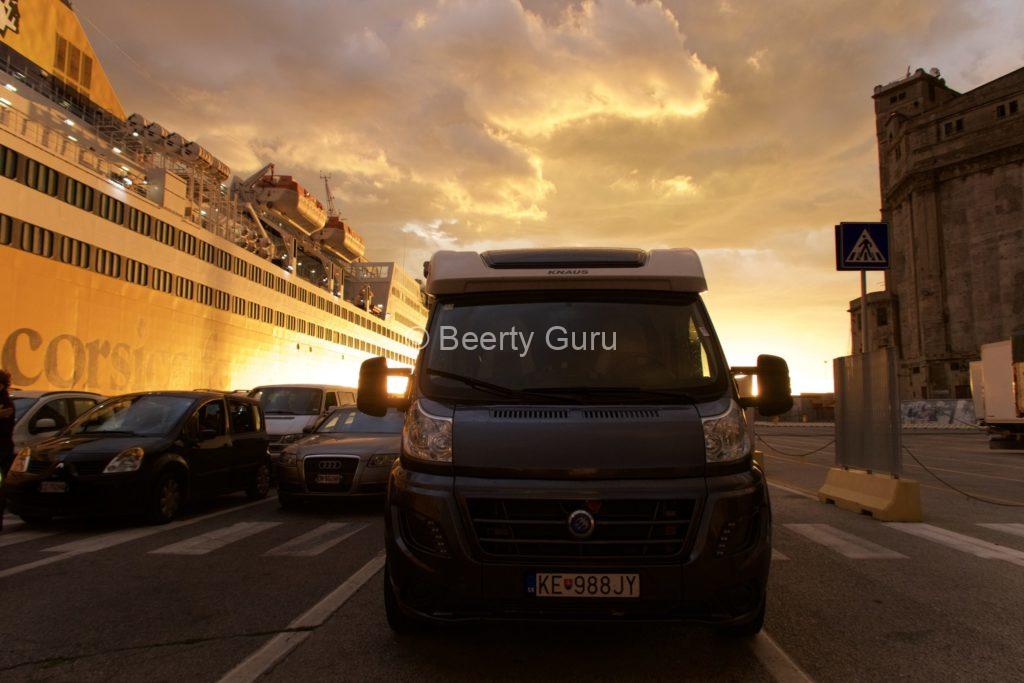 List of ports on the mainland for Sardinia
Planning your ferry journey depends mainly on your travel plan. And whether Sardinia is the main destination, or you're planning a bigger trip that includes Sardinia. There are many places from where you can take a ferry to Sardinia. There are several companies that run ferries to Sardinia. Not all of them run from all places. They usually have departures in the morning and evening. The cruise takes roughly 8-10 hours. So either the boat sails during the day or at night. When we sail in the evening, we quasi save a day. In addition, they also go differently fast boats. The faster one is more expensive.
This list is especially useful if you're planning a bigger trip and Sardinia won't be your only destination. However, even for smaller trips, this information can come in handy to include parts of Italy that are along the way in your itinerary.
Italy
Savona
Genoa
Livorno
Piombino
Civitavecchia [Civitavecchia]
Napoli
Salermo
Palermo
France
Spain
Corsica
Corsica is a French island located just north of Sardinia. Sardinia is a very pretty island but Corsica is definitely worth a visit too. When sightseeing, you can take the ferries between the two islands from the following cities.
Bastia
Ajaccio
Bonifacio
Porto-Vecchio
Sardinian ferry ports are in the following towns
Cagliari
Golfo Aranci
Olbia
Porto Torres
Santa Teresa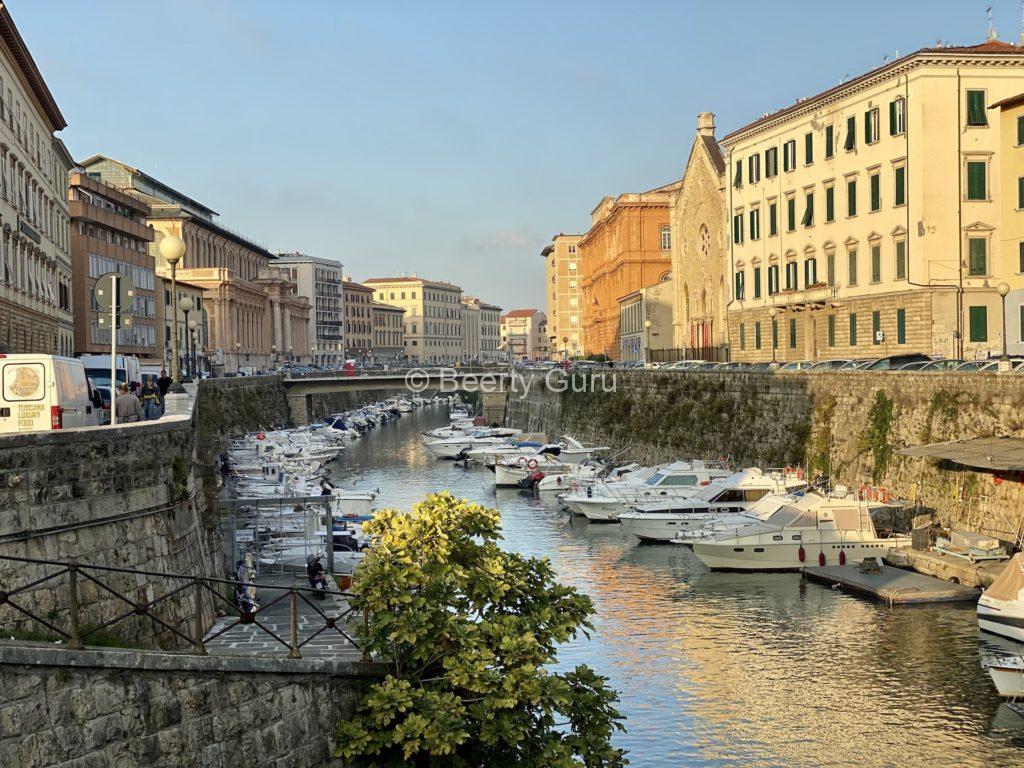 The harbour is the part of the city where boats are parked. It usually includes a large car park and buildings where shipping companies have offices. They have opening hours, including an afternoon siesta. So they are not sitting there all the time. In some cities, the harbour can be quite far from the centre. Livorno and Cagliari have a port very close to the centre. Genoa's port for these ferries is about 3 km from the centre, which is about half an hour's walk.
List of ferry operators operating to Sardinia
There are several ferry operators. They provide the same services on the boat. On one boat there may be tastier food or a more comfortable bed. They usually sail from the same port. But it is not always so, you need to take a good look at the ticket for the exact place.
Most often we go with either Moby, Corsica Ferries and Grimaldi Lines. We also went with those from Barcelona to Porto Torres in Sardinia in 2017.
Moby
Tirrenia
Grimaldi Lines
Corsica Ferries
GNV Grandi Navi Veloci
Ferry to Sardinia from Slovakia (practical example)
Here is a practical example of our trip to Sardinia with a departure from Slovakia straight to the ship. This is probably the most common case for most people as well. The nearest ports from where you can take the ferry to Sardinia are Livorno and Genoa. We usually go from Livorno because the boat trip is shorter and the price is lower. To compare prices, you also need to calculate the phm and highway tolls that are spent to the port with the lower amount and then the phm around the island, from the port to the destination city.
Basic information
Košice – Livorno 1300 km / Bratislava – Livorno 1033 km
Travel time to the port: 2-3 days
Departure: evening departure at 21:30 or 22:00
Duration of the cruise: 7-9 hours, +2 hours
Arrival in port: 1,5-2 hours in advance
For the journey from Slovakia to Livorno we calculate 2 or 3 days. Depending on where and when we start. Maybe it seems too much to you, maybe it discourages you. But the last thing we need during our vacation is to be shy somewhere. So we'll plan a few places worth checking out along the way. In those 2-3 days, we'll do on the order of 500-600 km per day. In the late afternoon, we will turn off the highway to the town of our choice. We have it divided into such zones. The first zone is around Neudseedler See and the second is around Tarvisio and below. On the day of the cruise we book a ticket for the overnight ferry from Livorno to Olbia or Golfo Aranci, subject to availability and price.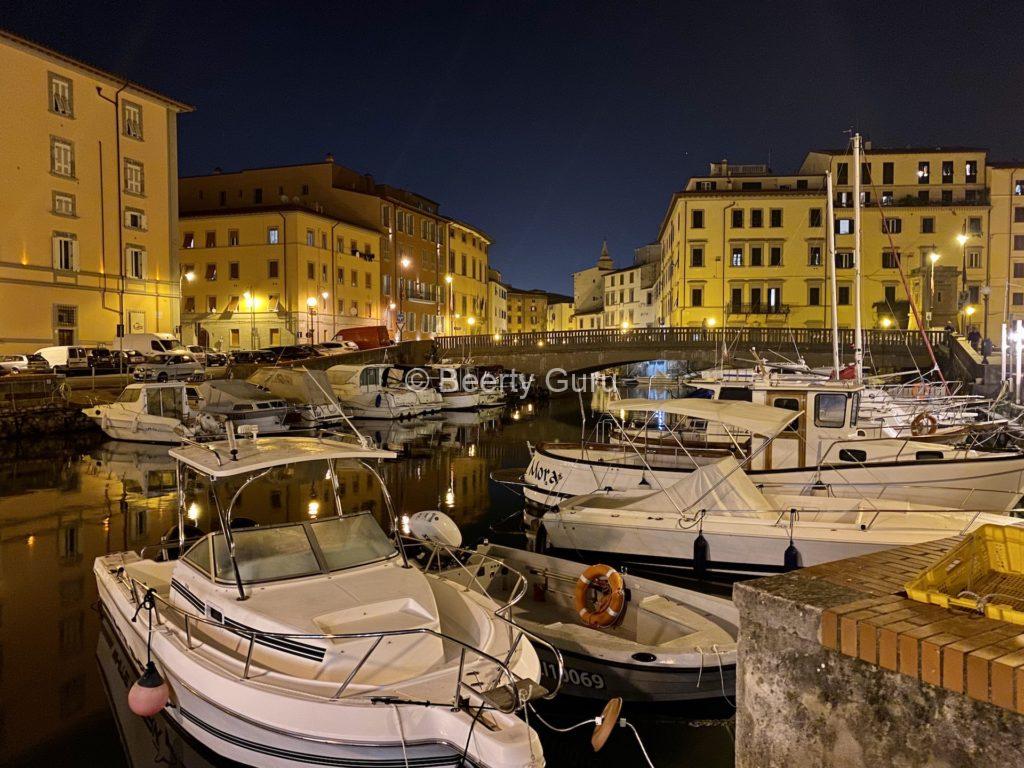 Night ferry on the route Livorno – Olbia or Golfo Aranci
The whole process is therefore a total of 9-12 hours. The cruise takes 7 – 9hrs depending on the choice of boat. We arrive at the port mostly in the afternoon. However, at least 2 hours before embarkation. Livorno is a nice little town and from the port we walk or longboard straight to the centre. Where you can spend a nice time for a couple of hours and eat well. Considering that the boat leaves at 9:30 or 10:00 pm and dinner time starts at 7:00 pm, it's not for a romantic long dinner, but it will be a better choice than dinner on the boat.
How to take the ferry to Sardinia
Day or night cruise
We like to go by night boat. We also book a cabin with our ticket. It's good because it's more comfortable to sleep, take a shower, charge phones. It's not an obligation to take a cabin, but it's definitely more of a guarantee that one won't be broken from sleeping on a seat somewhere the next day. So far, we've still taken a cabin, so we have no practical experience of sleeping on a boat in the common areas. However, normally people take a sleeping bag or blanket with them. The whole ship is air conditioned. If you are taking a pet and want a cabin, see if they have a cabin available for guests with pets. There are carpets throughout the ship. And in the rooms too. Cabins designated for passengers with pets don't have carpets so they can be disinfected as best as possible.
Day cruises also take about the same amount of time, depending on the type of boat. We haven't gone during the day yet, but I believe there may be some who prefer to see where they are sailing and there is no iceberg for the day. When we did sail during the day, we would certainly use the sundeck area for sunbathing or refreshing ourselves in the pool, but that serves the kids more than the adults. Alternatively, use this time to read, have fun at the Game Center, watch a movie, work, or just relax undisturbed with a view of the open sea. You might even see dolphins.
Cabin during a night cruise
I would compare the cabin to a room in a guesthouse somewhere. It has beds, a wardrobe, a chair with a table. Shower with towels and toiletries like shampoo, mind, toilet paper. Mostly it has a drawer. However, it can be Italian type. Standard cabin has 4 bunk beds, it is possible to book a premium cabin with a double bed. Beds with linen are relatively comfortable. As a blanket is a sheet with a thick blanket. The cabin has air conditioning with its own regulation, so it is possible to set your preferred temperature. There is carpet on the floor, so it is quite a nice and cozy environment. There are two types of cabins. Upper with a window and below deck, without a window. On a night cruise that window is not much of a need. You can't see the dolphins jumping out in the dark anyway.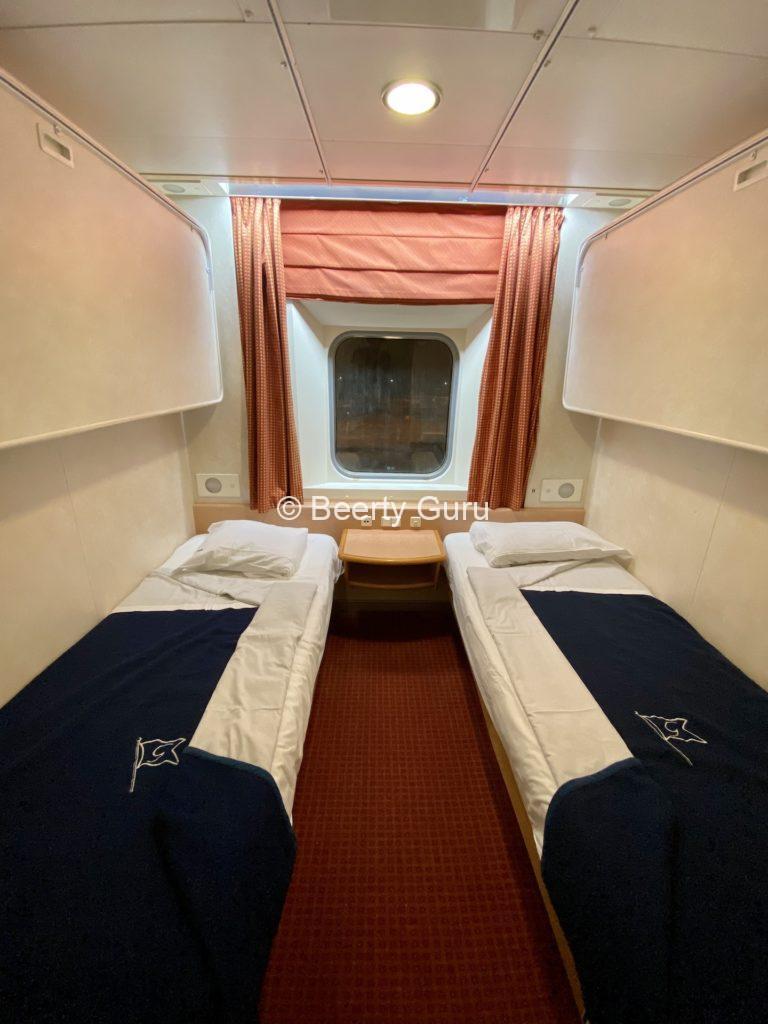 Purchase a ticket
Ticket can be purchased:
online, either directly on the carrier's website or on the ferry operators' association websites
in person at the office of the carrier operating at the port
I recommend buying your ticket online, it's the most convenient. You don't have to reach anyone at the sales office at the time you arrive at the port. Waste time waiting when you could be making better use of it, like sightseeing or just grabbing a coffee in a local neighbourhood. In Italy, there is life in the small parts of towns too, not just in the Centro Storico [Centro Storico – historic centre].
To buy a ticket, you will need several pieces of information. For example, where you want to go and where you want to go from, your personal details and your car details. You will need to show a valid ticket during boarding. You will receive the online ticket by email after purchase. Save it on your mobile phone or tablet. It's convenient and environmentally friendly. You won't forget it at home. For example, I create a separate folder and all the necessary documents related to the trip are collected in it. Forward the ticket to fellow travelers as well.
When and how to buy a ticket?
You can buy your ticket in advance or on the day you want to sail. No later than 2 hours before your scheduled departure. The ticket is bought for the exact day and time. So when buying a ticket you need to specify the departure date from a specific port. It is possible to rebook the ticket for another date.
You can buy a one-way or return ticket. The advantage of a one-way ticket is that you have an open departure date as well as a departure point. This means that you will arrive, for example, by ferry from Livorno to Olbia and leave from Porto Tores to Genoa and on the way back you will see Liguria or stop in Milan.
We normally buy our ticket on the day of departure, the prices are not that much different in terms of buying in advance. So there is no need to buy a ticket at home before the trip. However, you do need mobile internet which is probably a common thing nowadays. However, buying a ticket at the last minute is not advisable if you have booked a date in Sardinia.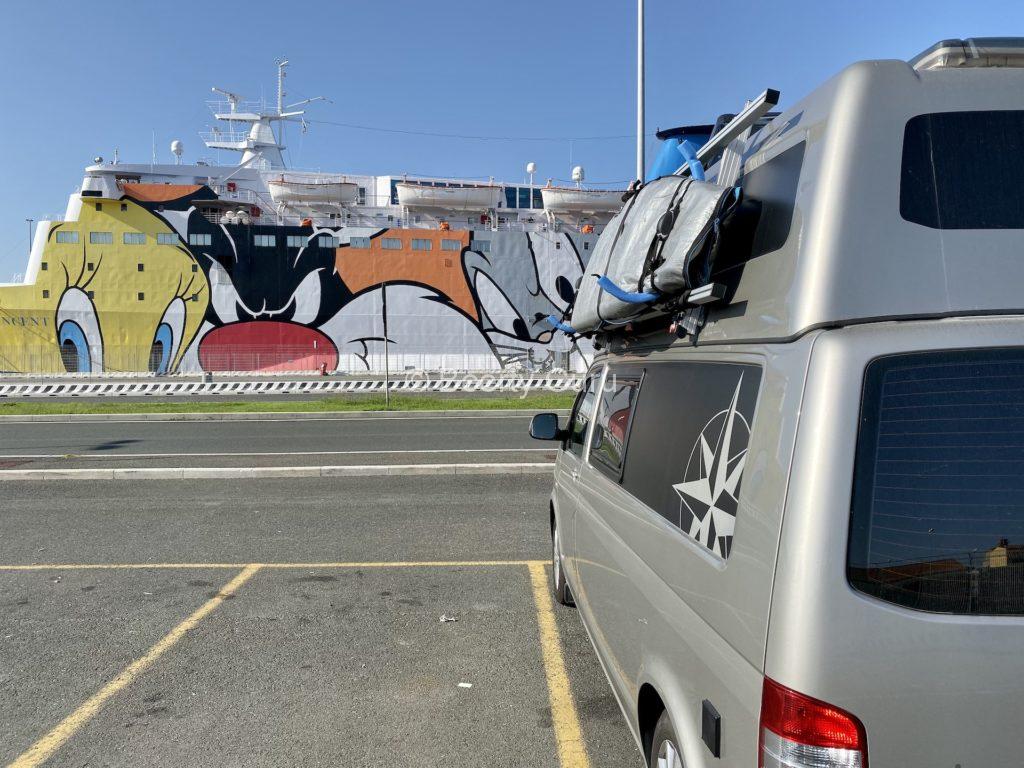 Car details for ticket purchase
In addition to your personal details, you'll also need your car details to buy a ticket. Its height and length. If you're travelling with bikes and they're on the roof of the car, you'll also need to add their height. And if you're travelling in a motorhome and have bikes on the rear rack, don't forget to add them too. Don't forget to mention if you have a trailer or motorhome or anything extra to the car. Also if you have anything on the roof of the car. This information is important for the organization of the loading and placement of the cars in the boat's garage.
Some transport companies may ask for the make of the car just by looking at the available tickets. It is still customary to quote the registration number of the car.
Passenger data for ticket purchase
Number and composition of passengers. The number of adults and children shall be indicated in particular. Children shall be listed by age. Please include a pet if you plan to bring one. Still check that you meet the conditions for boarding a pet. In addition to the fact that it must be vaccinated, have a chip or license, check the ability of the breed to travel. France has restrictions on martial breeds so don't be surprised if you don't face legal penalties for this.
After selecting the ticket, you need to fill in the personal data of the passengers such as name and surname, date of birth. Contact details, including phone, email and physical address. Check your email well, your boarding pass will come to your email.
After filling in your details, check everything and pay for your ticket with your credit card. Usually an embossed or credit card is required. After successful payment, you will receive a confirmation and a ticket in your email inbox.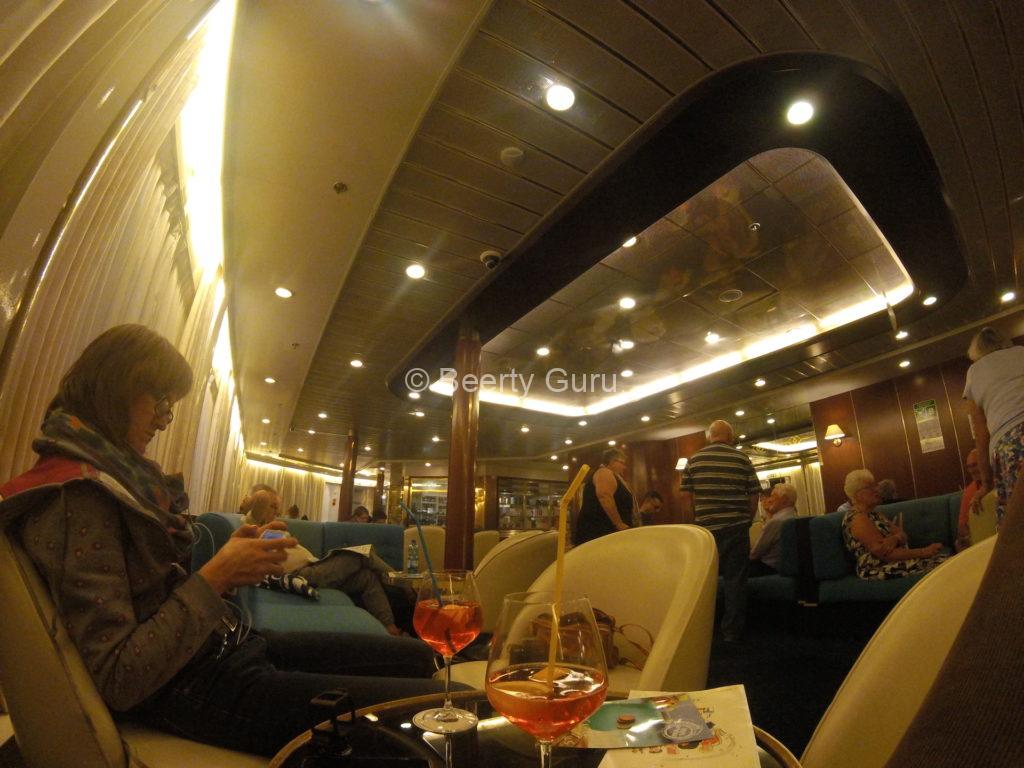 Price comparison for different days
119€ Day boat Livorno – Golfo Aranci (midweek, August 17; 7:00-14:00), 2 adults, car length up to 6m, height 2,80, no seats, no cabin.
89€ Day boat Livorno – Golfo Aranci (midweek, 24 Aug; 7:00-14:00), 2 adults, car length up to 6m, height 2,80, no seats, no cabin.
The ticket price does not include a seat, so you can sit in the common areas of the restaurant, bar, sundeck, game room, etc.
248€ Night boat Livorno – Olbia (midweek, 17 Aug, 22:30 – 7:30), 2 adults, car length up to 6m, height 2,80m, 1x cabin
137€ Night boat Livorno – Olbia (midweek, 24.8.August 22:30 – 7:30), 2 adults, car length up to 6m, height 2,80m, 1x cabin
We're going sailing
When to arrive at the port?
Each company may have stated otherwise. Times also vary by port. For cars, a minimum of 1 hour before departure applies. For foot passengers, 30 minutes applies.
Corsica Ferries state a minimum of 1 hour before departure.
Moby state a minimum of 1.5 hours before departure. When leaving Genoa it is up to 2 hours. In the case of Genoa, 3 hours is recommended in the summer season.
Cars are loaded at least 1 hour before the scheduled departure time. However, it happened that we were boarding and a few minutes later we were already weighing anchor. However, it was peak season and there were a lot of cars going. With the motorhomes being the last to go on the ship, we waited in port for quite a while. You certainly don't need to be there very long in advance, but you have to count on spending some of that hour there.
You wait to board at a designated car park and company staff check your tickets and ID. They are guided to which queue to join.
Embarkation
Boarding is organized by the size of the cars and who arrived when. The under deck garages have several floors so they organize it so that cars are parked on the smaller garage platforms. Usually RVs and vans get on the boat along with the trucks.
Most of the ferries are organised in such a way that cars are parked in the garages and people are transferred to the deck of the boat by stairs or elevator. It is not possible to stay in the car during the cruise. They don't recommend leaving pets in cars either. The garage tends to be properly warm and it is not possible to go into the garage during the trip.
The staff navigates the way from the parking lot to the boat, showing you exactly where to go. They also navigate when parking so that cars have the required spacing between them. Once parked, put 1 on the gear stick, pull the handbrake and lock the car.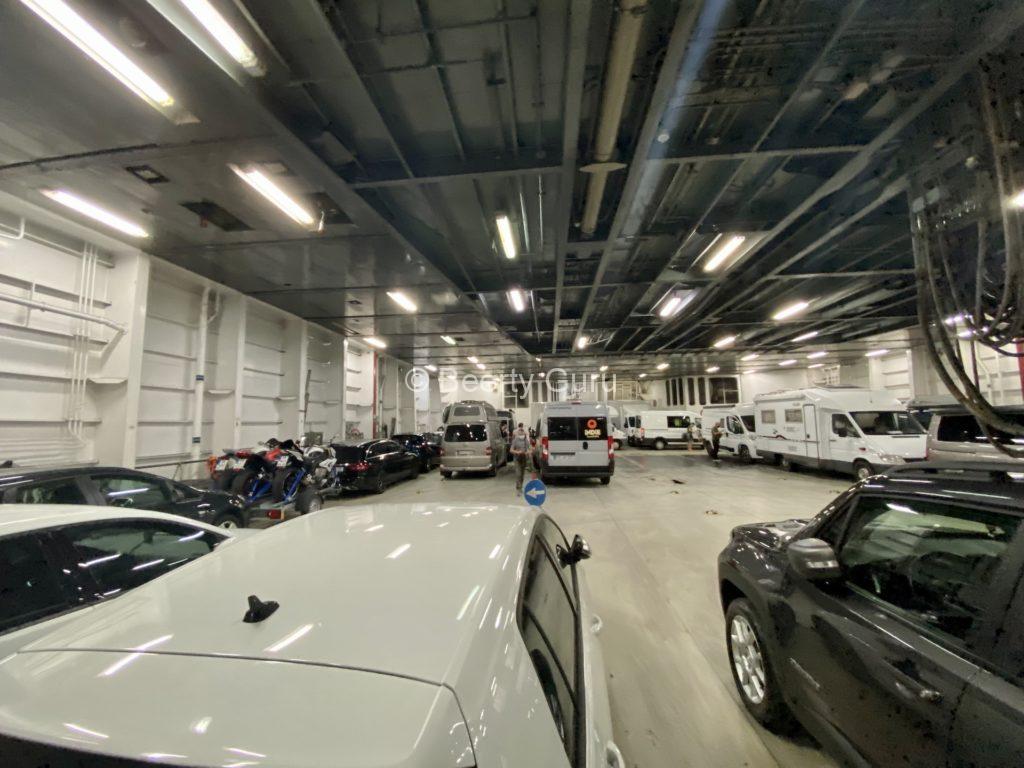 What to pack for the boat
If it's a night cruise and you have a stateroom, pack:
personal documents, ticket
pajamas (if you have a ticket with a cabin)
a sweater or something warmer, even in summer it's cooler on the ship
sleeping bag (if you plan to sleep on a seat)
toiletries
hair dryer (if you use one)
clean clothes for the next day
phone, tablet/laptop
book
spouse, kids, dog, cat 🙂
If you want to save money, I recommend taking some food with you, whether it's breakfast or even a sandwich for dinner or some of those drinks. The food on the boat is cool and probably the least appealing is the actual breakfast. Unfortunately the sweet pastries are made from frozen semi-finished products. Some of the brands aren't bad, but so as a tip on what to save on it's handy 🙂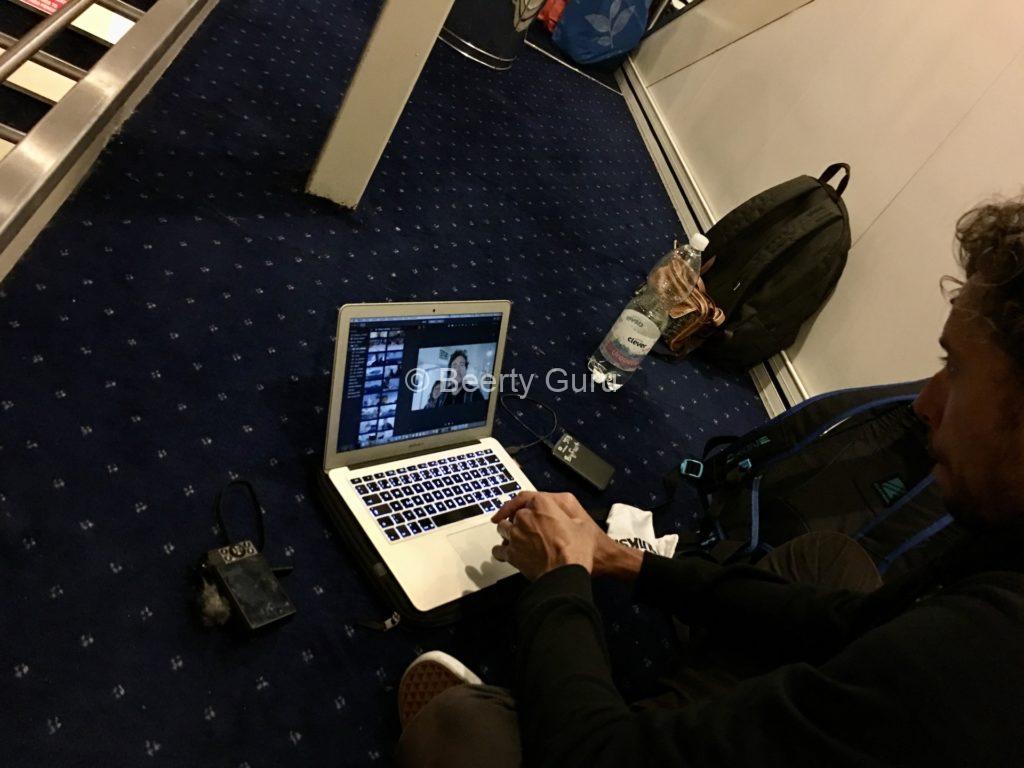 Stay on the boat
Once you've parked your car, grab any personal items you want to take with you on your cruise and go on board. Memorize (or take a picture of) the garage number so you can get to your car. Find the nearest exit and either take the stairs or the elevator to get to the floors where the reception, restaurant, bar, or lounge area is located.
The reception will give you a room key and you can go to your room to check in. It can be a nice maze on the ship, but there are numbers and tubes everywhere with the layout of the cabins. The cabins have air conditioning. In the morning about an hour before disembarkation they play an announcement and an invitation to breakfast 🙂 Food is not included in the ticket price.
On the top floor there is an open space and the possibility to go out on the deck.
Weather on the sea
Personally, I don't like the caterpillar track or the various carousels very much. After the trip from Ireland, where it was like a seesaw, I didn't know what to expect from the ferry to Sardinia. There, however, a much bigger ship runs and there is no danger of such swings. In bad weather, when there is a storm at sea, you can feel the slight waves, but certainly not so dramatically as to be seasick.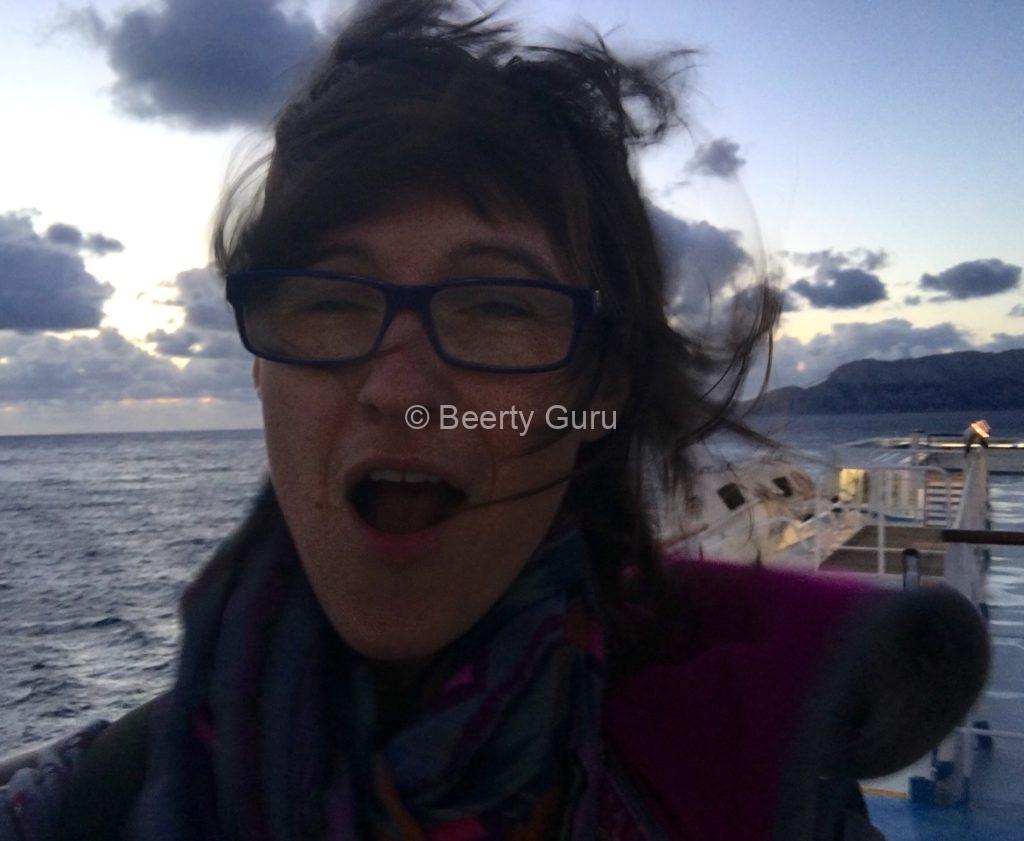 Disembarkation
Only when the boat is parked in the harbour are passengers allowed to pass from the deck to the garage. Navigate by the colour and number of the garage where you parked your car. Then the disembarkation process starts immediately. The attendant gives instructions. Carefully exit the boat and enjoy Sardinia.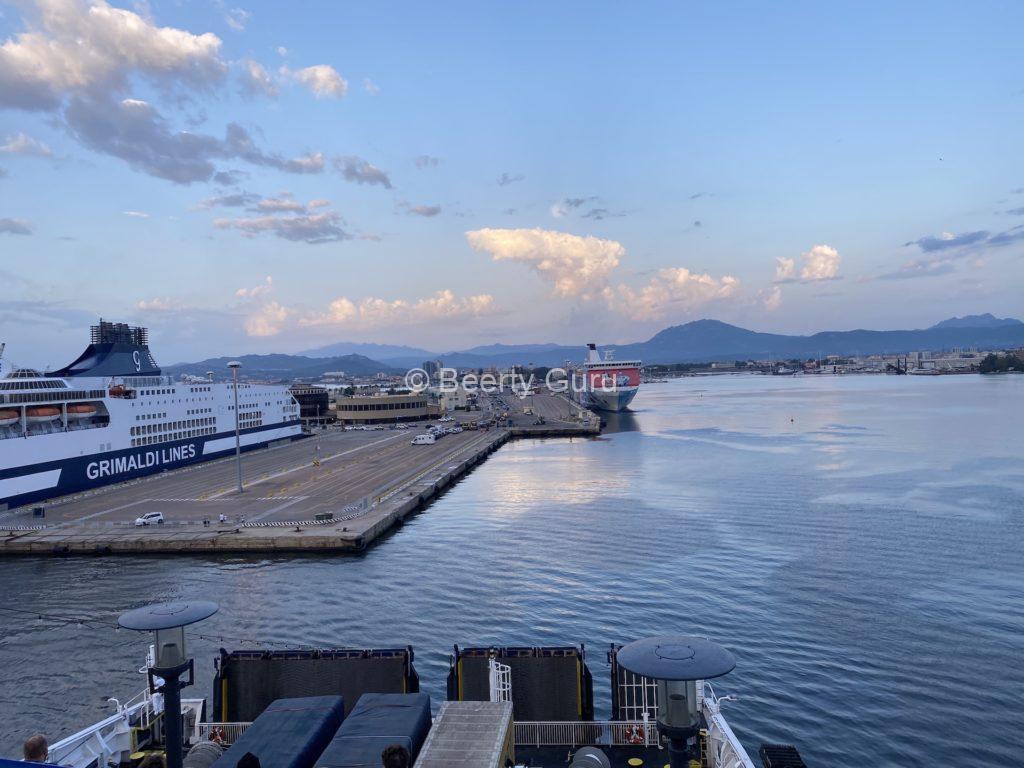 Video – loading the caravan onto the ferry by reversing